sound:frame 2009 ::: TEAM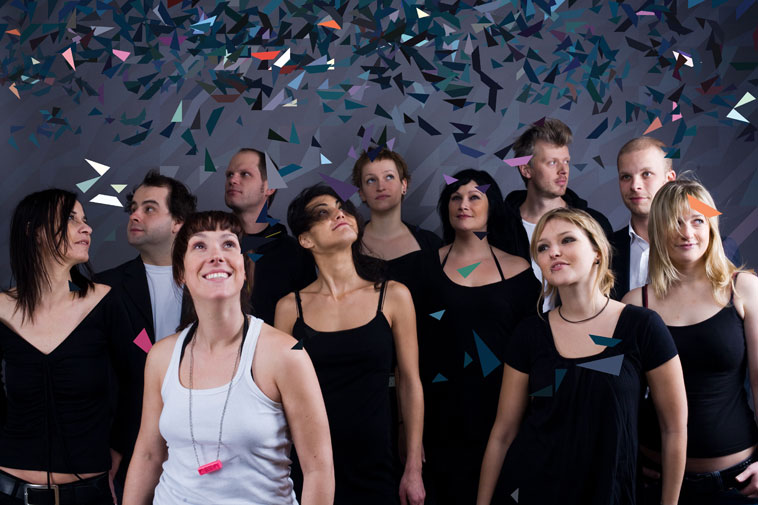 Das sound:frame Festival ist Teamarbeit - Grund genug hier die Teammitglieder vorzustellen.
The sound:frame festival is teamwork - reasons enough to to introduce the team members.

EVA FISCHER
Kuratorin und Veranstalterin
Dass sich e:v/a eines Tages mit der Visualisierung von Musik auseinandersetzen würde, war Eva Fischer schon in die Wiege gelegt. Während ihres Studiums der zeitgenössischen Kunstgeschichte findet sie Geschmack an der Club-Szene - am Sound, an den Visuals, am Tanzboden - und ist fasziniert von der Wirkung, die die Verschmelzung von Sound und Bild auf den Betrachter zu haben vermag.
Aus dem Traum, selbst in dieser Richtung aktiv zu werden, wird schließlich der sound:frame Gedanke geboren!
Als Kuratorin und Veranstalterin des sound:frame Festivals erfreut sie sich der unbeschränkten Vielfalt an Kreativität und wartet jedes Jahr erneut mit größter Spannung auf die zahlreichen Resultate des Festivals.
"sound:frame steht für die Verbindung aus Sound und (Bewegt)bild. Wenn beide Ebenen im Raum miteinander verschmelzen und aufeinander reagieren, entsteht eine faszinierende Atmosphäre, die alle unsere Sinne reizt. Mit sound:frame möchte ich Raum für dieses Zusammenspiel schaffen und der Audio-Vision den Platz einräumen, der ihr gebührt."
curator and host
e:v/a can be considered a natural born visualist. During her academic years as a contemporary art history major she was immediately drawn to the club scene - its sound, its visuals, its packed floors - and soon became fascinated with the overwhelming sensory effects prompted by the fusion of sound and vision.
Her dream to participate as an active member in this scene finally gave birth to sound:frame.
As the founder, curator, and host of the sound:frame Festival she enjoys the infinite seeming plurality of creative endeavors and eagerly awaits the numerous results and reactions of each year's festival.
"sound:frame stands for the fusion of sound and (motion) picture. When both components in the space merge together and react with one another, a fascinating atmosphere develops, which provokes and heightens our senses. With sound:frame, I would like to create a space for this interaction and grant audio-vision the opportunity and status it deserves."

ROMANA KLEEWEIN
Technische Leitung
Romana ist schon seit der ersten Stunde mit dabei im Team! Seit dem sie denken kann macht sie immer irgendetwas mit Musik. Vor ca. zwei Jahren ist sie auch auf den Geschmack gekommen etwas mit Videos zu machen und dann natürlich Video und ton zu vermischen welches sie unter dem Künstlernamen 'ton:ge:misch zu ihrem besten gibt.
So ist sie wie man sagen kann eine "multi taskerin". ton:ge:misch arbeitet mit Sound und Video. sie arbeitet als Audio Engineer, Tonmeisterin, video producer und visual artist zur gleichen Zeit. die visuals von ton:ge:misch sind bunt, vertraut und verwirrend zu selben Zeit, lustig, Geschichten erzählend, alt, aktuell, grün, blau, pink... sie leben mit der Musik im Einklang!
"sound:frame wird seit seiner Entstehung vor drei Jahren immer mehr zu dem, was wir uns damals gewünscht haben - zu einer Plattform für die Zusammenarbeit von Sound- und Videoartists, einer Verschmelzung von Technik und künstlerischen Ideen und zu einem internationalen Platz für Innovationen und Kooperationen."
technical director
Romana was part of the sound:frame team from its first hour. Since as long as she can remember, she's always been doing something with music. About two years ago she developed an interest in video making, which then progressed into video and music mixing. Her media meshing would grant her a new artist name: ton:ge:misch. Roman is, as one would say, a multi-tasker; tone:ge:misch works with sound and video. She works as an audio engineer, a sound mixer, a video producer, and a visual artist. Her visuals are bright, familiar and confusing at the same time, happy, narrative, old and current, green, blue and pink & they live together with the music in complete harmony.
"Since its emergence three years ago, sound:frame is turning more into what we always wanted it to be: A platform for the collaboration of sound- and video artists, a fusion of technique and artistic ideas, and an international workstation for innovation and cooperation."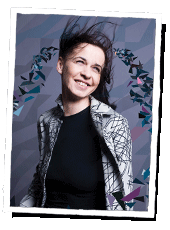 CHRISTINE HELMER
Kaufmännische Leitung und Presse
Auf der Suche ihre Leidenschaft auch endlich beruflich umzusetzen, ist sie im Sommer 2008 eher per Zufall zum Team gestoßen, aber jetzt mitten drin und voll infiziert mit dem sound:frame Virus.
Aufgewachsen in Wiesen, der Heimatgemeinde unzähliger Festivals und dem legendären Jazz Pub, war sie schon in jungen Jahren der Musik verfallen und ihre Passion für elektronische Musik vorprogrammiert. Musik als Lebensmaxime! Und sound:frame die neue Heimat!
"Musik abseits vom Mainstream, Sounds voller Geschichten, Bilder die Bände sprechen."
commercial director and press
Upon searching for a new occupation that would allow her to live her passion, Christine coincidentally crossed paths with the sound:frame team in the summer of 2008. Soon after, she joined the crew and was quickly infected by sound:frame's contagious virus.
Growing up in Wiesen - home to several summer festivals and the famous Jazz Pub - Christine soon discovered her strong passion for electronic music. Music is her life's maxim! And sound:frame is her new place to call home.
"Music beyond the mainstream, narrating sounds, storytelling images!"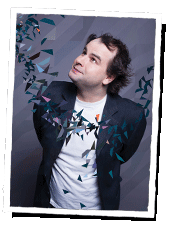 FLORIAN LAUNISCH
gestalterische Leitung
Herr Launisch ist ein sehr visueller Mensch. Liebend gerne verzaubert er Clubs, Konzerthäuser und Festivals mit bewegten Bildern. Im Team mit seiner Kollegin VJ Luma ist er schon weit gereist und brachte Beamer in New York, Genf oder Lille zum Glühen. Neben seiner VJ-Tätigkeit liegt ihm aber auch die Grafik und Illustration am Herzen und dieser Leidenschaft frönt er im sound:frame graphic department.
Grafische Formen, Flächen, Strukturen und fantasievolle Charaktere sind die Elemente seiner Arbeit. Das Leben ist die Inspiration. Gepaart mit verrückten Ideen und seinem stilsicheren Gespür entstehen dabei kleine Kunstwerke mit charmanter, analoger Ästhetik. Mit einem Lächeln im Gesicht sollen die BetrachterInnen geblendet und verführt werden.
"Am Rummelplatz der Augen tummeln sich die Kinder und verspeisen Zuckerwatte und Videoequipment. Harmonisch altert der Abend. Der Boden tanzt. Die Sonne scheint an der Wand. Es ist sound:frame!"
art director
Mr. Launisch is a very visual person. He loves to enchant clubs, concert halls and festivals with his moving images. Together with his colleague, VJ Luna, he has already traveled the world and has operated video beamers in New York, Geneva and Lille. Aside from his VJ involvement, he is a graphic artist and illustrator at heart, and he can fully indulge in this passion as a member of sound:frame's graphic department. Graphic forms, surfaces, structures, and visionary characters form part of his works. Life is inspiration! Paired with moving ideas and their fixed style traits, small works of art with similar charming aesthetics develop. With a smile, the viewers are to be dazzled and enticed.
"At the eye's playground, the children skip and devour cotton candy and video equipment. The evening ages harmoniously. The floor dances. The sun shines across the walls. It's sound:frame!"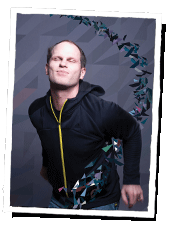 THORSTEN MONDRZIK
Produktion Live-Events
33 Jahre alt, eigentlich typischer Bayer, steht auf Schweinebraten mit Knödel und Augustiner Bier und ist seit 3 Jahren Wahlwiener.
13 Jahren im Dienste der elektronischen Musik, Plattenladenbesitzer, Labelbetreiber und passionierter DJ. Das sound:frame Festival ist für ihn Verhandlungsache! Zuständig für Künstleraquirierung, Distributionspolitik, Tourmanagment und gelegentlich Mädchen für alles und jeden.
"Das sound:frame Festival bedeutet: verdammt viel Arbeit aber verdammt viel Spass!"
production life events
33 year old, typical Bavarian, enjoys "Schweinbraten mit Knödel" and Augustine beer (Classic!), three-year Vienna resident. 13 years of service in electronic music; record shop owner, record label operator, and passionate DJ. For him, the sound:frame festival is a matter of negotiation! Responsible for booking and distribution, tour management, and occasionally the little girl for everything and everyone.
"sound:frame festival means: a lot of work, but a lot of fun!"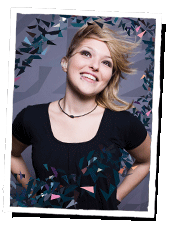 JULIA ZDOVC
Promotion International und Festival Zentrale
Als Julia Zdovc vor 6 Jahren nach Wien kam um Publizistik und Kommunikationswissenschaften zu studieren war noch nicht daran zu denken, dass sie heute hier sitzt und diese Kurzbiografie verfasst. Erst vor 2 Jahren kam Julia in Berührung mit elektronischer Musik. Von Anfang an fasziniert von dem Sound, vor allem aber auch von den Projektionen an den Wänden, die für Julia einfach zu dieser Art von Musik dazu gehören wurde sie hellhörig, als sie das erste mal von sound:frame hörte. Vor gut einem Jahr lernte Julia durch Zufall die Kuratorin Eva kennen und schnell war klar, dass auch sie bei diesem Festival mithelfen wollte. Wie schon im Vorjahr wird Julia auch heuer wieder den redaktionellen Teil des Festivalkataloges mitgestalten, heuer neu wird sie auch die Festivalzentrale während der Ausstellung leiten und betreuen und auch hier und da in anderen Bereichen tätig werden, wo Not am Mann ist. Im Moment schreibt sie auch an ihrer Diplomarbeit, passender Weise befasst sich diese mit sound:frame.
"Visualisierung von elektronischer Musik trifft genau das was ich fühle und sehe, wenn ich guten Sound in Kombination mit passenden Visuals erlebe. Es ist faszinieren was diese Kombination in den Köpfen des einzelnen anstellen kann, welche Welten sich einem dadurch eröffnen. Leider wird dieses faszinierende Zusammenspiel von den wenigsten gewürdigt. Hier leistet sound:frame einen Beitrag dazu, Bewusstsein für die Einzigartigkeit und Wichtigkeit von Visuals zu schaffen."
international promotion and festival zentrale
When Julia Zdovc moved to Vienna 6 years ago to study journalism and communication science, she would have never guessed that she would be sitting here today writing these short biographies. Just under two years ago, she acquainted herself with the electronic music scene. Immediately from the start, Julia was fascinated with the sound and the visual projections on the club walls, which form a central part of her understanding of this kind of subculture. A year ago, Julia met Eva, the head of the sound:frame festival, and was so interested that she decided to become a part of the event. Similar to last year, Julia will help in the editorial layout of the festival's catalogue and will be the woman in charge of the festival's headquarters for the first time. Julia is also currently writing her masters thesis on the sound:frame festival.
"The visualization of electronic music meets at exactly what I see and feel when I experience the perfect fusion of good sound and adequate visuals. It is fascinating what this combination can install in your head at such moments. Unfortunately, this fascinating interaction is only appreciated by the few. Here, sound:frame contributes to the public's realization of the uniqueness and importance of visuals."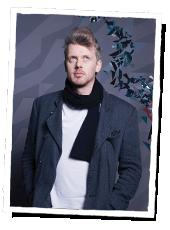 MARTIN NUSSBAUM
Koordination sound:frame Call
Martin Nußbaum, langjähriger Wahlwiener, ebenso lange umtriebiger, integrativer Bestandteil der dortigen elektronischen Musik und Visual art Szene, arbeitet seit mehr als einem Jahrzehnt im Spannungsfeld von audio-visuellen Kunstformen. Die Beziehung von Bild und Ton, in verschieden nuancierten Fusionierungsgraden, bildet den zentralen Nexus seines Schaffens und ist so in seinen Projekten - als DVJ gajol, UKO oder NuLegé, um nur die Bekanntesten zu nennen - omnipräsent.
Gemeinsam trat er mit seinem Bruder Jürgen Nußbaum als UKO erstmals mit einem Musikvideo für die ORF Kunststücke 1998 in Erscheinung und hat seinen so inaugurierten, sich aus der Dichotomie der beiden Pole Audio und Video speisenden, künstlerischen Weg in zahlreichen, darauf folgenden Releases, Performances und Remixes konsequent weiterentwickelt.
Gegenwärtig ist er beim sound:frame Festival für den Call und im Rahmen von EVOLUTION REMIXED! mit seinem UKO A/V Open Remix aktiv, welches auf der Grundlage des neuen Studioalbums neue Trends in Hinblick auf ein audiovisuelles Gesamtkunstwerk zu setzten versucht.
"sound:frame versucht die Heterogenität und Komplexität dieser Kunstform in ihrer ganzen Vielfalt auf ein neues Level zu heben."
sound:frame Call coordinator
Longtime Vienna resident, and a busy, integrative, component of the local electronic music and visual art scene, Martin Nussbaum has been working in the electronic field of audiovisuals for over a decade now. The relationship between picture and sound, in differently nuanced grades of fusion, forms the central nexus of his work and is omnipresent in his innovative projects as DVJ gajol, UKO, or NuLegé, just to name a few.
Martin was first publicly recognized in 1998, when he and his brother, Jürgen Nussbaum formed UKO and produced a video that was aired on the Austrian Public Broadcast Station's (ORF) Kunstücke. In doing so, a style that exhibits an interesting dichotomy between audio and visual was established and Martin continues to develop and expand this technique through his numerous releases, performances, and remixes.
Martin is currently an active member of the sound:frame festival and is responsible for this year's call for participation. He is also the coordinator of his own UKO A/V Open Remix project, which is an integral part of this year's festival focus, "EVOLUTION REMIXED!".
"sound:frame tries to bring the heterogeneity and complexity of art forms of all categories to a new level."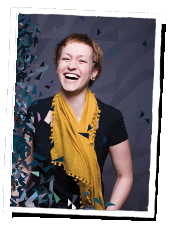 FRIEDERIKE ARNDT
Assistenz Eva Fischer und Pressesupport
1983 geboren in Merseburg (D), verbrachte Friederike Arndt eine musische Kindheit in Potsdam. Zu Schulzeiten versuchte sie sich vorerst klassisch an Instrumenten, bevorzugte bald jedoch die Zusammenarbeit mit charismatischen "Altherrenpunkern" in Bandprojekten. Die Ohren gespitzt für unkonventionelle Musik, offen für Veranstaltungen abseits des Innenstadtkommerzes und magisch angezogen von der bildenden Kunst, entwickelte sich bei ihr schließlich eine ausgeprägte Affinität zur "unterirdischen" Kulturszene. Kann man sein Hobby zum Beruf machen? Einer Antwort versuchte sie sich nach dem Abitur 2 Jahre lang mittels kulturvermittelnder Praktika in Berlin anzunähern. Danach begann sie 2005 in Leipzig das Studium der Kulturwissenschaften, Theaterwissenschaft und Kunstgeschichte. Dort ist sie nebenher in kulturellen Vereinen tätig. Derzeit sammelt sie für ein halbes Jahr in Wien Inspirationen und Erfahrungen als Praktikantin beim sound:frame Festival 2009.
"Folgendes geschah bei der vergangenen 4youreye Geburtstagsparty im Flex: Jemand fragte mich ernsthaft, warum denn bloß alle die ganze Zeit nach vorn zum DJ-Pult schauen. Genau das ist wieder der Beweis, dass Visuals selbst in der Clubszene noch immer einen niedrigeren Stellenwert haben und manchmal anscheinend sogar übersehen werden. Für mich ist sound:frame eine Chance, sowohl für die Künstler, als auch für das Publikum (auch außerhalb der Clubs), diese großartige zeitgenössische Ausdrucksweise ein Stück mehr zu integrieren. Ich freue mich, dieses Festival eine kleine Weile begleiten zu dürfen!"
assistance to Eva Fischer and press support
Born in 1983 in Merseburg, Germany, Friederike spent her childhood surrounded by music and fine arts in Potsdam. She began her musical career in the realms of classical music, but soon worked together with a group of charismatic, "old-generation punks" on several different band projects. This opened her ears to unfamiliar music, pushed her to interact outside of inner-city conventions, and magically attracted her to a new form of art that would ultimately establish her powerful affinity for the underground culture scene. Can you turn your hobby into a profession? After finishing high school, Friederike tried to answer this question by accepting several internships at different cultural institutions in Berlin. In 2005, she began her academic studies in cultural sciences, dramatics, and art history in Leipzig. Frederike is currently broadening her personal and cultural horizons as an intern at the sound:frame festival 2009.
"The following event occurred at the last 4youreye birthday party at Vienna's Flex: Somebody asked me why almost everyone in the venue was looking towards the DJ-stage the entire time. This question shows precise evidence, that Visuals are still undervalued and, at times, apparently overlooked in the club scene. For me, sound:frame gives the chance for both the artist as well as the public (also outside of the club scene), to contribute one more piece to this great contemporary mode of expression. I am so happy I've been able to join this festival for even a short time!"

REBECCA BÜCHLER
Assistenz Eva Fischer und Pressesupport
Rebecca hat sich schon immer für Medien aller Art interessiert, vor allem für visuelle Medien. Sie studiert Theater- Film- und Medienwissenschaften und würde später gern zum Film gehen. Das sound:frame Festival ist toll um sich damit intensiv auseinander zu setzten. Der Grund ihrer Mitarbeit ist für sie offensichtlich. Interessante Leute zu treffen und verschiedenste Herangehensweisen zu sehen bzw. zu hören. Die Mitarbeit sieht sie für ihr Studium genau so wichtig wie für ihren weiteren Werdegang.
"Das Festival ist eine Plattform auf der sich internationale Künstler und Künste treffen. Ich habe die Möglichkeit zu sehen wie andere Künstler arbeiten um mich weiter zu bilden."
assistance to Eva Fischer and press support
Rebecca has always been interested in mediums of all forms, particularly visual media. She studies theatre, film, and media science and would like to go into the film business in the future. She regards the sound:frame festival as the perfect nexus to intensify her passion for these different media. The reason for her participation is obvious: To meet interesting people and to see and hear diverse perspectives and approaches. Rebecca views her participation in the festival as important for her studies as it is for her own development.
"The festival is a platform on which international artists and their arts meet. I have the chance to see how other artists work in order to advance my own skills."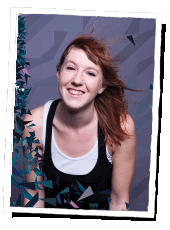 ELISABETH FÜRNTRATH
Katalog
Trotz abgeschlossenem Studium der Romanistik und Kunstgeschichte und dem kürzlich begonnenen Studium der Kultur- und Sozialanthropologie kann sich Elisabeth Fürntrath beruflich nicht festlegen - zu weitreichend sind ihre Interessen - weshalb sie auch in verschiedenen Bereichen tätig ist wie beispielsweise bei sound:frame in der Koordination der Katalogproduktion. Dabei reizen sie an sound:frame die atmosphärischen Verschmelzungen von Klang und Bild und deren variantenreiche Gestaltungsmöglichkeiten.
"sound:frame verbindet Club-Kultur und Ausstellungskultur zu einem Festival, das gerade auch durch diese Verbindung ein außergewöhnliches Event des Kultursektors darstellt."
catalogue
Although Elisabeth has already finished her masters in romance languages and art history, and has begun another academic major in cultural- and social anthropology, she still cannot make a vocational commitment - she has far too many interests. This explains why she participates in different professional realms including the coordination and production of the sound:frame catalogue. At sound: frame, she is drawn to the atmospheric fusions of sound and picture and their rich, varying design possibilities.
"sound:frame merges club- and exhibition culture into a unique festival, and also represents an unusual and alternative event of the cultural sector through this connection."